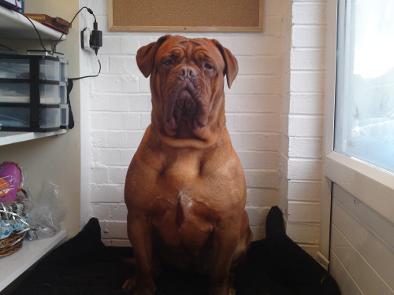 Without doubt the best dog grooming anywhere around. Dogs are looked after so well, groomer is patient, highly skilled and dedicated. Very knowledgable with all dog issues, training, health, behaviour and amazing with the dogs. Maizie loves to go and comes back looking and smelling beautiful.
Dan Newman
My dog is very timid and doesn't like other dogs and so had difficulty getting him in to tbe washed and trimmed in other places. I was amazed when he just walked into the shop and Leigh said he was as good as gold. He catered for Sprout and was brilliant with him. He looked fantasic and now I get him done regularly. Nice home business where the care of your dog is second to none. Also learned alot from Leigh about training and behavioural issues. Really knowledgable.
Richard Martin and Sprout
I sadly had to leave Newark as I lived on a barge and took my Bijon to Skruffs 2 Kruffs on several occasions. Whenever we come down we always book Tina in for anappointment as she looks so good, a real professional clip. They taught me how to groom her correctly and real went out of their way for me. I have been to loads of dog groomers through my travels on the canals and this is by far the best. Molly Richardson
Leigh is superb with all dogs. Mine is frightened of strangers but Leigh has an amazing way with him. He doesn't even tie Oscar up. And when finished he looked so beautiful. Smelt lovely too.
Claire and Oscar
Daisy is a regular at Skruffs 2 Kruffs. It is the only place she is clipped how I want and Bijons need to look good. Leigh is so friendly the salon is very clean, air conditioned and dogs are never tied up like other dog grooming salons. Daisy uses it as a second home and looks so lovely when she is done. Don't go anywhere else.
Maddy Richards
Best place anywhere around. I have 2 dogs and one is 15 years old. I would not trust any other dog grooming facility. Always kind to the dogs and they look fabulous. They just fall asleep on the floor and are so relaxed. I would not go anywhere else and the prices are very good too.
Mary Green
I took my Old English Sheepdog to Skruffs 2 Kruffs and they did a fantastic job. Took him to dog training and everybody wanted to know where I had him done. Went to a dog show and my daughter entered Harry not expecting him to get anywhere and he won. Judge said he was a lovely dog and clipped and styled well. High praise from a professional judge.
Michael Kent
Thank you so much for doing such a good job on Henry he looks and smells fantasic
Emma
Henry is my pride and job. Leigh looks after him so well and I won't leave him with anyone else. Salon small but warm, bright, spotlessly clean, music and no other dogs in the salon and Henry gets Leigh's full attension. Styling excellent.
Joanna