SKRUFFS 2 KRUFFS
Dog Grooming at its Best
We are one of the only Holistic Dog Groomers in the UK and a 'Green' Dog Groomers too.
Electricity is from solar panels and all grooming products are natural and bio-degradable.
Dogs cared for Holistically and will therefore get far more superior care and treatment than 'standard' dog grooming salons.
Skruffs 2 Kruffs is a small, friendly and professional home based Dog Grooming business in Newark, Nottinghamshire. It has been running for ten years and grown to be one of the most popular grooming business in Newark.
It is owned by Professional Dog Groomer Leigh Atkins and offers the finest grooming service anywhere in the UK.
Dogs are my passion. Small ones, large ones, shy ones, young, old, good and mischievous ones. I don't care we love them all.
My aim is to offer you and your dog the best possible care and treatment. Holistic dog care is rare in Europe and I am qualified to offer these exceptional high quality skills developed over many years of training and teaching.
All dogs are welcome and will be cared for as if they are my own.
The salon is fully air conditioned, TV and video with DVD's that you can bring for your dog or music if your prefer and no cage drying takes place as this does not give the best result. A cage is in the salon but open for your dog to relax if needed. Bring their blanket if you like and their favorite toy.
Dogs are always supervised and we do not use ties or restraints.There will be no other dogs in the salon, no stress and your dog will not be left waiting or lonely, just loved.
Large exercise area and full free parking available.
All staff are highly trained in grooming, dog behavior, dog handling, health and wellbeing as well as many other speciality areas and treatment your dog will receive will be the best anywhere in the country.
This I guarantee !
For more information on Newark on Trent's Premier Dog Groomers please call us on 07899 841447
or 01636 708143
We look forward to speaking to you.
See us on You Tube, search Skruffs 2 Kruffs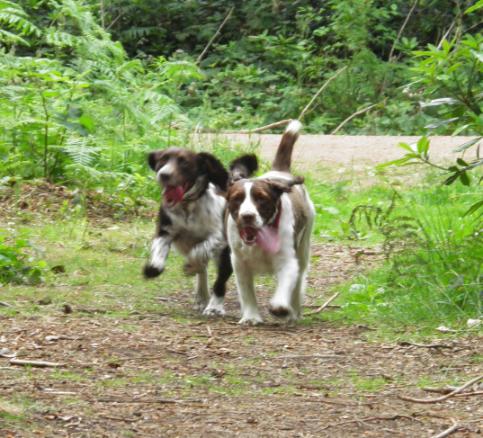 My two Springers, Billy (left) and Emma having a run in the woods. They will be popping in the salon on the way home I can quarantee that, Dirty Puppies........Dogs always feel better after spending time at Skruffs 2 Kruffs, will be happy and full of life.
see Bertie below with his famous Cava - Poo clip below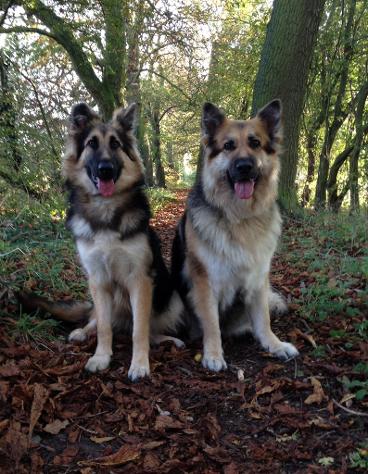 Millie and Maddie. Two of the most beautiful German Shepherd Dogs you will ever see. This was taken by the owners son just after a visit with us at Skruffs 2 Kruffs