Billy and Emma are ready for a trip to Skruffs 2 Kruffs after cooling of in the mud!!!
They will need their favourite Perfume on too!!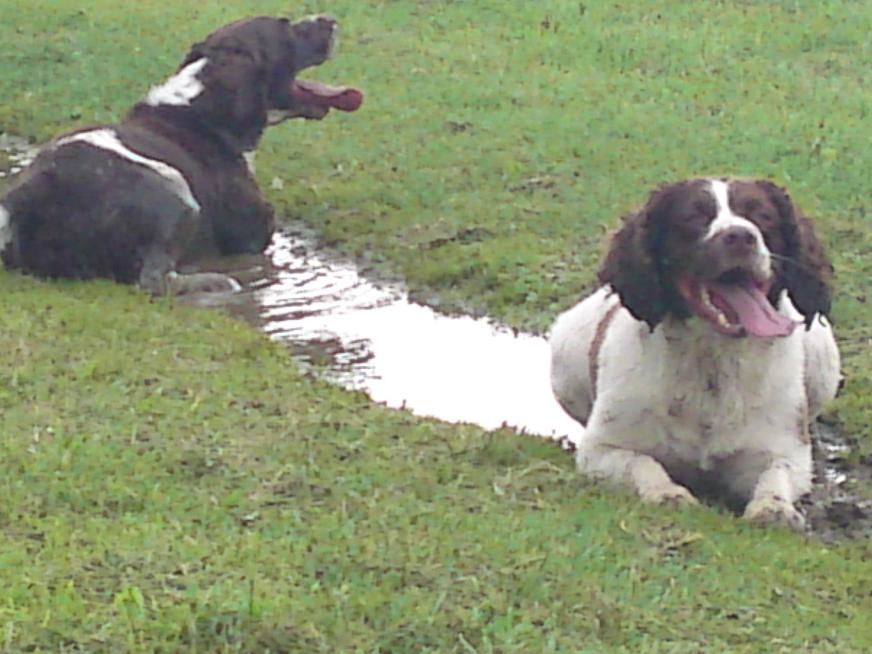 SKRUFFS 2 KRUFFS
Perfumes for Pooches
Skruffs 2 Kruffs are proud to announce their very own 'Perfume for Pooches' range of pleasant fragrances for your dog.
These are made from natural oils and are designed for your dogs to not only smell beautiful but allow you to choose your favourite fragrance for when you pick them up.
These include:
Lavender and Tea tree

Coconut

and

Lime

Coconut and Mango(VERY POPULAR)

Lime

,

Lemon

or

Lemon

and

Lime

Dewberry

Apple

and

Cinnamon

or just Apple

Cherry Vanilla

Sweet Honey

Strawberry
You can pick your fragrance when you drop your dog off with us and if you require we can make you up a 1000 ml batch for you to take home with you at cost of only £12.00. This includes an industrial sprayer which will last. (you can bring your own). This is a fraction of the cost for usual dog fragrances you buy in pet shops. And on return to us bring your bottle and fill up with new fragrance if you want for only £5.00.
It is quickly becoming the most popular service we offer to our customers.
Why not give them a try?
Instant Keyrings and Fridge Magnets
Why wait for a picture of your favourite best friend.
We at Skruffs 2 Kruffs can have a Key Ring or Fridge Magnet ready for you when you pick up your beautiful groomed dog.
These are top quality photo's of 12 million pixel and can also be used for Animal Passports if required.
They are only £2.50.
When you bring your dog have a look at the ones we have for show. If you want one making ready, you can pick the picture you want of your dog from 5 – 10 separate pictures that we take.
You can use them for presents for family and friends too. Great for Christmas and birthdays